AI and Data Science for managers

Certification
This training was the subject of a request for registration in the specific directory of certifications and authorizations (RSCH) of France Compétences under the title "Identifying the potential and challenges of Artificial Intelligence and Data Science for managers". As such, it will be eligible for the CPF.
TARGET AUDIENCE AND PRESENTATION
This program is designed for managers and executives who wish to better understand the challenges of artificial intelligence and data for companies in an approach that focuses on practical issues and case studies.
Talking about the growth of the Artificial Intelligence and Data market has almost become commonplace. This growth, attested by data on a global scale, amounts to tens of billions of euros. The French government has just launched major groups' digital mission (August 2020) to accelerate the digital transformation of businesses. The project "Developing a common strategy on artificial intelligence" is among the five major projects identified as priorities.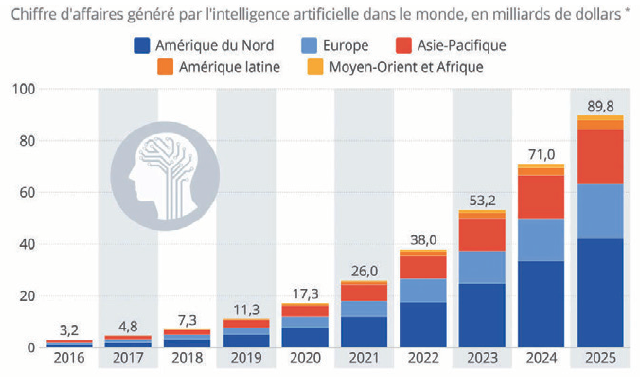 This development will not be possible without providing managers with the basic understanding of issues related to AI and big data.
This training does not seek to transform managers into "data scientists" or "data analysts" or even into experts in AI and machine learning, but to make them discover the entire AI landscape. This training does not require any prerequisite. The knowledge of the AI and Data Science landscape is essential for them to know if it is necessary to integrate/accelerate an IA and Data approach in their strategic perspectives and where and how to move forward.
OBJECTIVES
This training will allow you to acquire:
Understand and identify the potential of artificial intelligence and the use of massive data for its organization in order to detect the economic opportunities offered by the use of AI.
Analyze the impact of AI use on the organization by understanding and anticipating the transformations in human and material resources in order to successfully implement it and ensure the sustainability of the considered solutions.
Structure a data business model for your organization by identifying the process of massive data analysis and processing in order to drive growth and added value for the customer/user.
Identify the human and ethical considerations of the use of AI and data by considering the regulatory framework and the issues of bias and robustness of algorithms in order to contribute to the implementation of technological innovations of trust and responsibility.
CONTENT
Module 1: Identifying and Understanding the Potential of AI for Your Organization

- Artificial Intelligence in the context of a digital ecosystem: developments and practices  

- Understanding the AI black box: machine learning, deep learning and neural networks 

- Build and manage a data science team 

- Use cases in companies: benefits and challenges 

Module 2: Data Science for Business Intelligence 

- Enterprise Data Science Practices: Methods, Approaches and Trends for the Future

 

Leverage the potential of data to drive your organization's growth: data collection, storage, cleansing, analysis and visualization, predictive analysis and modeling, classification and segmentation

Structure your data business model 

Module 3: Artificial Intelligence and Data Ethics  

- An AI of trust and responsibility

Regulatory and ethical framework for the use of AI and data in the enterprise

HR issues: working with intelligent machines, AI and date professions and job market, 
A testimonial and an exchange with a manager who has implemented AI solutions in his/her company as well as a Business case fil rouge (guideline) will enrich the contents of the different modules.
AI and Data Science for managers
Prerequisite A minimum of 5 years of professional experience in a managerial position.

Location Cachan

DATES March 09, 10 and 11, 2022 - March 23, 24 and 25, 2022

PRICE €2,900 EXCL. TAX