MSc Data Engineering for Business & Society wins Eduniversal 2021 Innovation Award for Best Masters, MS & MBA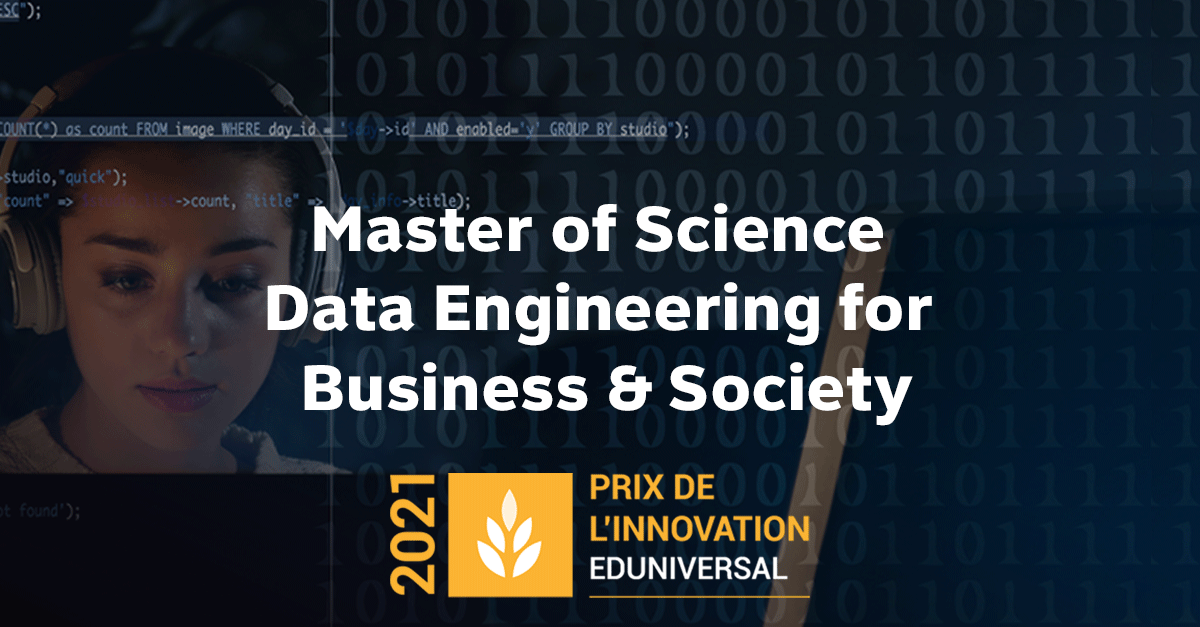 The Eduniversal Best Masters, MS & MBA Innovation Award recognizes the most innovative and job market relevant programs. These awards confirm artificial intelligence professions' attractiveness and relevance and aivancity's innovative teaching methods.
YOU GET A MASTER OF SCIENCE: DATA ENGINEERING FOR BUSINESS & SOCIETY
You will obtain a Master of Science Data Engineering for Business & Society, a level 7 professional certification, recognised by the State, and the most highly valued professional certifications on the job market: Microsoft Certified - Azure Data Engineer Associate: DP200 and DP 201 AWS Certified Cloud Practitioner.
YOU MASTER THE ENTIRE DATA ENGINEERING CYCLE
You master the entire data engineering cycle (acquisition, architecture, preservation, cleansing, sorting, structuring, securing and analysing), using the best technologies while understanding the issues at stake in organisations (decision support, data business models, customer/user relations, understanding business processes, etc.) as well as their legal, ethical and societal implications (data governance, respect for personal data, neutrality, bias, equity, diversity, transparency, etc.).
YOU ARE PREPARING FOR THE AI AND DATA PROFESSIONS
You will prepare for the following jobs: Data Engineer, Data Analyst, Data Architect, Big Data Consultant, Data Manager (in a private company or in a public organisation)  
AND YOU OBTAIN A DIPLOMA WITH AN UPDATING© GUARANTEE.
And you get a degree with an Upgrade Guarantee© (aivancity's patented concept - Upgrade Guarantee offered free of charge to all MSc graduates for 5 years). 
Since its launch, the Master of Science Data Engineering for Business & Society has been listed among the best courses for more than 10 years by Eduniversal EEA, a global evaluation organisation recognised in 153 countries