Alliance between technology company Substrate AI and aivancity Paris-Cachan, the Grande Ecole of AI and Data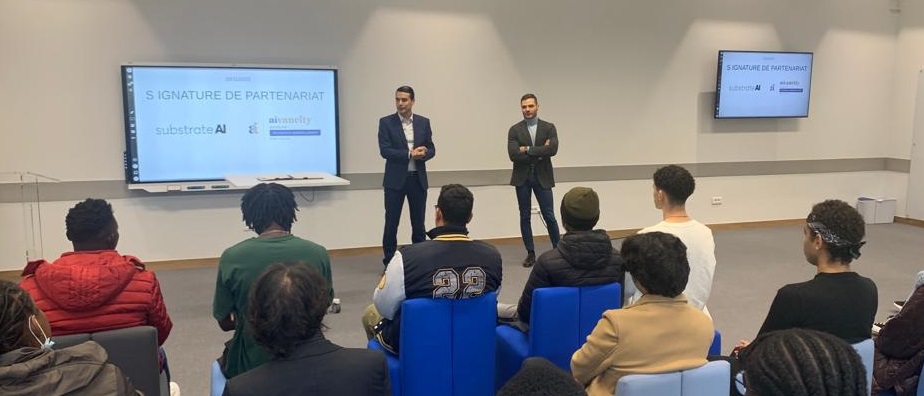 The French strategy dedicated to artificial intelligence (AI) has just been strengthened with an additional €2.2 billion in funding over the next five years, from the Future Investment Program and the France 2030 plan to train for AI professions. As part of this drive, Substrate AI, an American-European company with expertise in artificial intelligence, and aivancity school for Technology, Business & Society Paris-Cachan, the grande école for AI and Data, have joined forces to strengthen and support AI training for students and professionals.
By joining forces with aivancity Paris-Cachan, the first school with a mission as defined by the Pacte law, which places employability at the heart of its commitments, the American-European company Substrate AI, based in Spain, is pursuing its growth objective and offering future generations the chance to develop innovative projects between artificial intelligence (AI) professionals and up-and-coming specialists.
This partnership is built around shared ambitions, especially in meeting the demand and need for training and professionalization in AI, an area of expertise that is developing more and more each day, and which consequently requires ad hoc training.
Several projects will be financed by the company, including mentoring for several start-ups co-selected within the aivancity incubator. Substrate AI specialists will play a key role in this partnership, sharing their knowledge and tools, particularly in their specialist fields such as agritech, HR, fintech, energy and healthcare.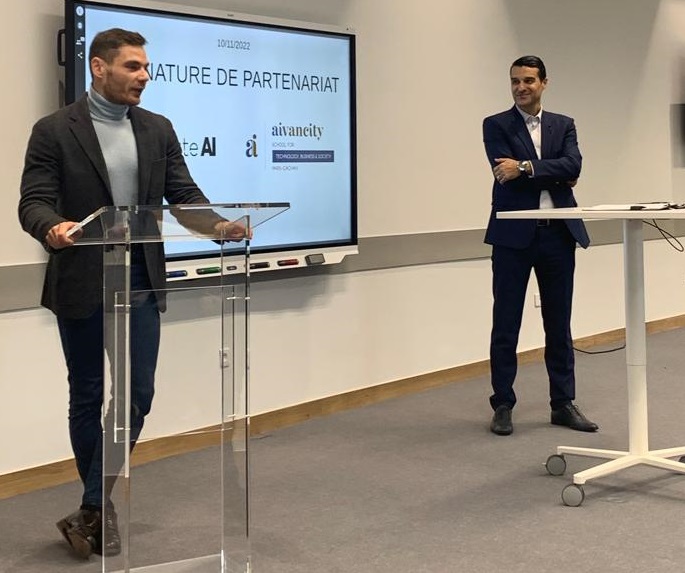 CREATION OF A CHAIR DEDICATED TO THE DETECTION OF MEDICINAL PLANT DISEASES USING ARTIFICIAL INTELLIGENCE
aivancity and Substrate AI are launching a chair dedicated to the detection of diseases in medicinal plants using Artificial Intelligence, with the ambition of :
Provide an overview of current AI and IoT technologies deployed in medicinal plant cultivation.
Explore and develop a system for improving medicinal plants through an AI solution to prevent disease and improve plant quality.
SHARED VISION AND VALUES
The genesis of the partnership between Substrate AI and aivancity Paris-Cachan revolves around shared values. Indeed, both parties believe that artificial intelligence is designed to enhance the skills of professionals, enabling them to concentrate on high value-added tasks. This shared vision raises a major challenge, that of acculturation to artificial intelligence. Many companies are receptive to AI today, but many are unsure of how to approach the technology. For Substrate AI and aivancity, supporting companies in their technical transition is therefore a key pillar of their partnership, which concerns many fields (robotization, energy and climate transition, etc.). This partnership is also an opportunity for Substrate to reaffirm its presence in France and its ambition to become a European leader in artificial intelligence.
Christopher Dembik, member of Substrate AI's Board of Directors.
« By joining forces with aivancity Paris-Cachan, Substrate AI is betting on the future by partnering with a school for the first time. With artificial intelligence playing a key role in optimizing business performance, and increasingly helping organizations to carry out their tasks, it is vital to support young talent in acquiring skills and developing their employability in this fast-growing area of expertise. Joining forces with the first school dedicated to artificial intelligence in France, and more widely in Europe, represents a major opportunity to train and recruit the experts of tomorrow ».
Tawhid Chtioui, President and Founder of aivancity.
« aivancity continues to strengthen its relationships with leading AI companies. This partnership with Substrate AI is very special in that it marks the launch of a program to support AI start-ups and a new research project, in the form of a chair, thereby pursuing our mission of a school at the service of business and society ».
Alliance entre la société technologique Substrate AI et aivancity Paris-Cachan, la grande Ecole de l'IA et de la Data
Lire le communiqué de presse