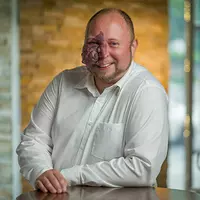 Levente SZABADOS
Visiting professor in Data science | Lecturer at Frankfurt school of finance & management
Field(s) of expertise
Data science, Artificial Intelligence, Innovation Leadership, Natural Language Processing, IT System Engineering, Management, Consultancy, Personal Coaching
Levente has a background in cognitive sciences and considerable experience in leading research and development teams as well as transforming research results into software applications.
He has filled various roles at two startups including co-founder, lead of research, and chief technology officer.
Levente's work has covered topics including web ontologies, evolutionary computation, neural networks, and diverse natural language processing approaches. He currently has over 10 years of experience in applied AI and is working as a Senior Consultant, "Startupper" and CTO.
He is also Lecturer in applied Artificial Intelligence, tech leadership at Frankfurt School of Finance & management and Public speaker with interest in cognitive science.
| Year | University | Diploma/Position |
| --- | --- | --- |
| 2015 - 2016 | Johns Hopkins Bloomberg School of Public Health | Certificate Data Science specialisation |
| 2007 - 2010 | The Gate of Dharma Buddhist University Budapest | Master in comparative religious studies |
| 2000 - 2005 | The Gate of Dharma Buddhist University Budapest | Bachelor in comparative religious studies |
| 1994 - 1999 | School for Information Technology | Higher level programmer / technician |
| Year | Function |
| --- | --- |
| 2020 - Present | Visiting Professor, Data science - aivancity |
| 2018 - Present | Lecturer - Frankfurt School of Finance and Management |
| 2017 - Present | Specialization Lead - KÜRT Academy |
| 2017 - Present | Senior Consultant - AI Partners / Neuron Solutions |
| 2013 - 2017 | Co Founder, Chief Technology Officer - Analogy Ltd. Budapest |
| 2012 - 2014 | Lead of Research - Genome Financial Solutions Ltd |
| 2010 - 2012 | Development Product Owner - Genome Financial Solutions Ltd |
| 2009 - 2010 | Technology Consultant - Foundation for Information Society |
| 2005 - 2009 | Various roles and studies |